every time I am  planning to do something more I realize I don't have time  for all my plans  go live 🙂 Yes I do complain about lack of time and at the same  time I am  bad workaholic trying to use every single minute  to paint, to sketch, to  edit, to  email  and reply.. since I  have customers from all over the world things  are getting  more exciting as  no matter if I have early morning or  insomnia at 3am I always have  somebody online to chat 🙂
Now summer has arrived  and it means  I live from show to show. no much time for painting, but I wish I had a bit more as I have  so many beautiful reference pictures sitting in folders.. also  photoshoot files are sitting  unedited.  thank you dear customers  being so patient! 🙂
my  personal challenge is going extremely slow too..  40 pieces to go and it seems it will take me forever 🙂  I have  two commissions in progress, one big piece sketched out and something else I can't even count all the amount of things in ToDo folder 🙂 latest painting for 100 paintings  is  12×12 inches
double Derrochon 🙂 from  my Spanish trip in back in March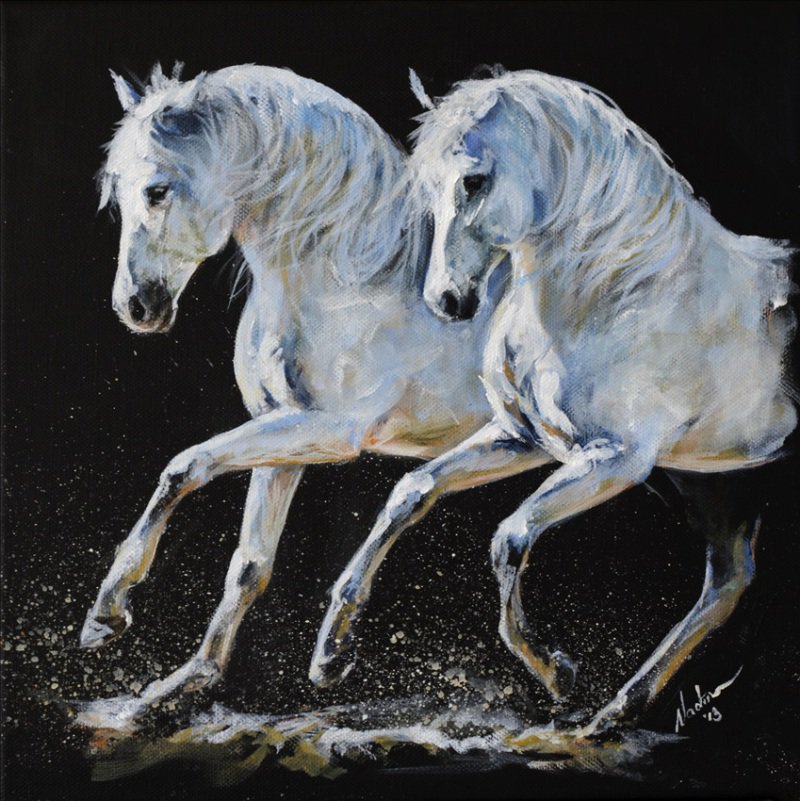 even if my  challenge  didn't  go  one painting a day in 100 days in row, I am absolutely happy with  what I have learned  so far and learned to  start and finish piece in  few hours.
I love  acrylics for  that!
about photozz..
since  1st of  January this year I did not have any free weekend, it means  every  single weekend I  work.  lol  I work 7 days a week, but I chose it myself, so shame to complain!
next free weekend  seems  will be only at the end of  July if  nobody books their show in.
well  few shows I have attended were not my  shows I am booked for, went only as press photographer but enjoyed every single moment of spending time shooting  world's  best  eventing riders.
Badminton  Horse Trials was just WOW! I had chance to try  this  beautifuyl brand new car for having a  look at  Cross country course:


and weather was  amazing too!
here is  London Olympic games  winner Michael Jung (Germany)
I was cheering  up he wins, but another great rider won  the show 🙂

his dressage test was  test of the tests! he got all highest marks  for riding! <3
it was pleasure to meet  many  interesting people, most of them are photographers and journalists  with huge experience, having  in their pockets Olympic games etc. was nice to  get some advice from them too!

at Badminton I took some photos for  our local Irish company Waterboy. they produce  such a thing, which you can use in the middle of field  to wash your horse and even have hot water!!
after returned back home I had  amazing photoshoot for riding  clothing advertisement, but it has to sit in secret folder until all things are done! 🙂
Pity one  of Riding clubs had to cancel their annual summerfest, but luckily  I have got another  show to do and we spent  fabulous day  shooting and printing on-site in Kilronan  Equestrian Centre. (must scan newspaper with article and my picture in it)
now just finished article about Tatts and  even if my  PC crashed at lest 10 times  this week somehow managed to  finish photos too 🙂 all photos in event galleries!
now  I'm getting ready  for  hopefully sunny weekend. planning to visit   kennels, bring  my PC to fix and two  days of harness racing ahead too!  yiihaaa!!
now I'm off to  garden to catch sunshine 🙂